THERE ARE LOTS OF WAYS YOU CAN HELP US HELP DEATH ROW DOGS!!
** FOSTERING **
We are always looking for fosterers. Fostering is so rewarding and really does save a dog's life. All costs are covered for fosterers including vet bills and food (if needed). All we ask of a fosterer is to be 100% committed to your foster dog to give it the best chance in finding it's forever home.
We'd love for you to be involved in the process of your foster dog finding it's forever home so regular updates to us would be great, posts on our Facebook page, walking your foster dog with a ' i need a home ' style dog jacket on, or anything else you can think of to increase the exposure of your foster dog would be fantastic! We are very open to ideas!!
We do our best to match a suitable dog to a fosterer so if you are interested, please fill in a Pre-Adoption Questionnaire and we will get back you ASAP.
** DOG WALKING **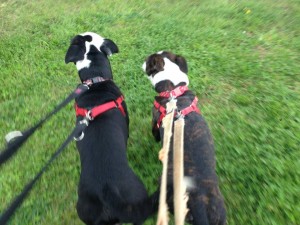 Dog walking is great fun!! Ideal if you'd love a dog but just don't have the time with an added bonus of keeping you fit! Our dogs love getting out of kennels and it is vital to their wellbeing that they get walked as much as possible. We are desperate for some regular dog walkers (particularly during the week), but any help is much appreciated!
Our kennels are based near Rotherham and we would welcome anyone over 16 to come and give it a go! You could even get a group of friends together and make a day of it! 
Please email info@helpingyorkshirepoundies if you are interested in finding out more!
** FUNDRAISING – SPECIAL APPEAL!! **
Fundraising is a hugely important to us and vital if we want to help more 'poundies' on death row! 
All help with fundraising is more than welcome. Whether you'd like to arrange a one off event for us, do a sponsored skydive, get your workmates involved, have a bath in baked beans, we would be grateful for ALL ideas!!
Please email info@helpingyorkshirepoundies.co.uk – we'd love to hear from you!
** SPREAD THE WORD!! **
Anywhere you can, we'd be more than grateful if you could spread the word about HYPS! Like us on Facebook , share our posts!
Print out posters and stick them up anywhere you can