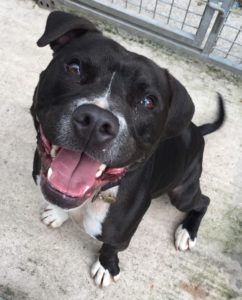 Enzo is a super handsome black and white 16 month old Staffy cross boy (possibly with Spaniel as he has floppy ears… and boundless energy!). He is medium sized, and a strong chunky young man who can be very excitable! Enzo is really friendly with everyone he meets and loves other dogs, but will chase cats (he could possibly live with a very confident cat who will stand their ground!). He's a very active young boy who needs plenty of exercise and would love an outdoorsy home where he can get out and about walking and playing as much as possible – he would absolutely love Canicross!
He has had some good basic training – is fully housetrained, knows his basic commands and is a clever boy who picks things up well, but needs lots of reinforcement as he can get distracted very easily! Enzo isn't used to being left alone, and does get upset when he's left at the moment, so he needs a home where he won't be left alone for long.
A quieter home where he will get a good structure and routine along with a lot of exercise is what Enzo desperately needs. He really is a fab young boy and will be the most loyal companion for his new family.
** PLEASE FILL IN A PRE ADOPTION FORM ON OUR WEBSITE IF YOU CAN OFFER ENZO HIS DREAM FOREVER HOME **