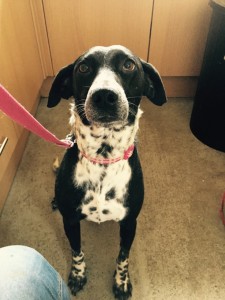 Yaz is a very special girl with so much personality, who has had a horrendous start to life growing up on the streets of Bosnia. She spent years there before getting a lifeline of a trip to the UK and into the safety of our rescue. She is a beautiful medium sized Crossbreed, possibly Pointer/collie type and is around 5-6 years old. All Yaz had known was people to treat her like vermin so she is understandably very shy of new people (particularly men) and situations (never aggressive with it), and takes a long time to relax and trust new people. It has taken us months to gain her trust, but now she's doing so well
and is like a different dog – giddy, fussy and playful, with the people she knows and trusts. Yaz now LOVES her walks, and would love to find an active family to walk with, but will only walk with people she knows! She is very stubborn about this! Her personality has now shone through, and she has so much character – she is very stubborn and a bit of a madam, so will need quite a firm hand when she has settled into her new home! Yaz needs a quiet child free home, ideally in the countryside, and she needs a VERY secure garden – she loves to run and roll in the grass, but can't be let off lead in an unsecure area as she is easily spooked and does try to chase rabbits/birds etc! She loves spending time outside, so a decent garden for her really is a must. She is good with other dogs, but will tell them off if they bother her too much, she would enjoy living with a calmer male dog who she could play with sometimes! She is absolutely no trouble to care for – she is totally clean inside, and will only toilet on her walks, she also doesn't chew anything at all, and will be fine to be left for a few hours. Her main request will be her very own comfy bed – her favourite place to be, and plenty of tasty food – she loves her food which makes training with her much easier (although she is currently on a diet!). As Yaz has never lived in a house before, she will need time and patience to allow her to adapt, and needs a family experienced with rescue dogs. She will most certainly be a scavenger, so food needs to be kept off kitchen sides etc! Yaz will make the most loyal, fantastic companion – she is such a unique character and will always keep you smiling once you have gained her trust.
PLEASE NOTE: Yaz will need at least 5 meet and greets at our kennels with any potential adopters before she would be ready for adoption as she needs time to get to know and trust new people.
**IF YOU CAN GIVE YAZ THAT SPECIAL HOME, PLEASE FILL IN A PRE ADOPTION FORM ON OUR WEBSITE**