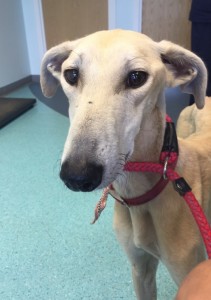 Luther the Lurcher is a beautiful fawn coloured Lurcher (Saluki x Grey?) who is only around 12 months old. He came into our rescue from a stray kennels in the most awful condition. He was totally emaciated with numerous sores over his body. He has become a bit of a celebrity since arriving with us and even has his own Facebook page where his fans have been following his recovery in his lovely foster home! He has come such a long way and is now ready to move on from his foster home and find his perfect forever home. Luther would love a chance at happiness, ideally in a nice relaxed home with plenty of exercise and a carer that can use patience with him as he continues to learn about the world. He responds well to verbal correction and positive reinforcement using food, when he understands what is wanted he is happy to oblige!
He travels well, is becoming great on the lead providing he has enough exercise, gets on with dogs both male and female whilst out and about but can be too excited to meet immediately so patience is needed with introductions. After a short walk alongside he smells and shows social behaviour and play like a pro. He can manage to ignore stationary cats whilst out, and walk past without any drama, but he would he would find it very challenging to live with one. He has learnt how to relax around traffic and has a coping strategy for this – he gets better each day.
He is playful, sweet and eager to learn. He has had a bad start so now needs consistency, routine, lots of sunlight, play and exercise along with a family to love him and show him the finer things in life whilst he continues with his training!
Luther is neutered, healthy, treated for parasites and is currently raw fed. He could live as an only dog or with females quite happily – but is still learning how to play gently so an experienced owner and calm confident dogs would be the best role models. He can be left for short periods only so no full-time workers please.
High fencing, an outdoor area to run and play and lots of patience and love are on Luther's wish list.
Are you Luther's perfect person? A great boy with a lot to give – we are now taking applications for this special boy.
Behaviour back up and support during introductions is provided as part of his adoption!
**PLEASE FILL IN A PRE ADOPTION FORM ON OUR WEBSITE IF YOU CAN OFFER LUTHER HIS DREAM HOME!**